How does the organisational structure work?
The Charter describes the Elected (President, Treasurer, LD and TD) and Appointed (VP, MD) positions on committee, as well as other staff positions, which are appointed at the discretion of each administration.  This should be read in conjunction with the Charter.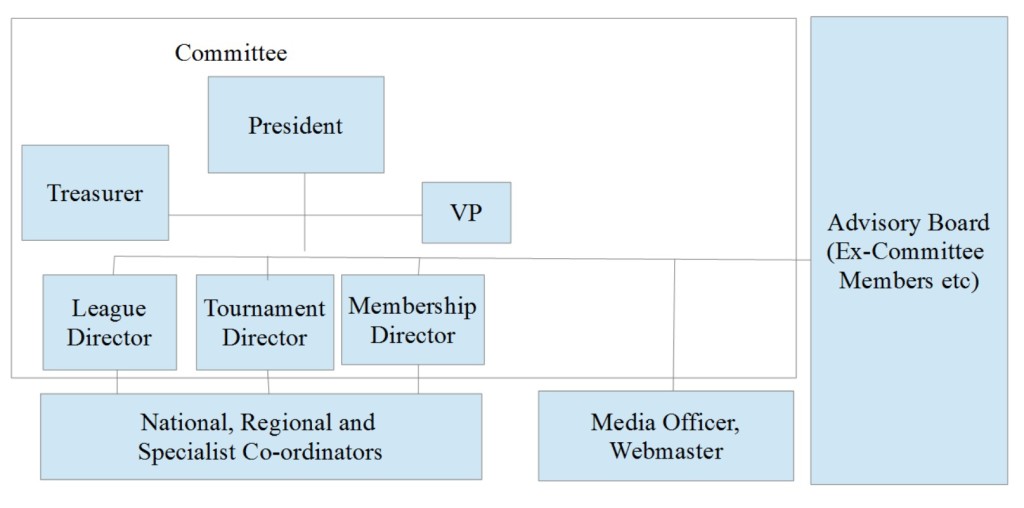 The National and Regional Co-ordinators look after parts of the world, with Specialist Co-ordinators looking after other areas such as Fumbbl.
Most countries have groups of friends who know each other and talk on websites in their own language. If is very useful if we have one senior staff member we can go to for feeding back information or getting knowledge back to the senior committee
All the NCs and RCs are able to sign up new players and do renewals, usually giving dice face to face. This format is often cheaper as we are not incurring postal charges and we have the peace of mind knowing the member has whatever gift there is to hand right there and then.
All NAF staff can be contacted through the PM system in the Members Area, or using the Contacts page.  The Current Committee is:
| | | | | |
| --- | --- | --- | --- | --- |
| Role | Post-holder | NAF Name | Next Election | Picture |
| President | Nate Beem (US) | Gaixo | January 2020 | |
| Vice-President | Torsten Blaetter (GER) | Tojurub | Appointed | |
| Treasurer | Paul Gegg (UK) | Geggster | February 2018 | |
| Tournament Director | Phil Pearson (UK) | Purplegoo | May 2019 | |
| Membership Director | Massimo Rolli (ITA) | Rolex | Appointed | |
| League Director | Gavin Sutton (UK) | Valen | June 2019 |    |
The Advisory Board consists of ex-committee members and others from the Blood Bowl world, who still have an input into NAF matters:
Beppe, Lycos, Sann0638, Dave, Valdric, Pipey, Rotersternhochdahl
Specialist Co-ordinators
Fumbbl – Strider84
Media – Twelfman (Alex Turner) and LegionsRealm (Jim Luft)
National and Regional Co-ordinators (NCs and RCs)
As follows, and can all be contacted via PM in the NAF Members Area.
Australia
NC
D_Arquebus
RCs
fnord23
Vimes
Austria
NC
juergen
RC
Snake_Eyes
Belgium
NC
driesfield
RC
Babass
Canada
NC
Grant85
RCs
Notorious_jtb (Ottawa)
Clan_skaven (Toronto)
KeggieMcKill (Vancouver)
Innerdemon (Alberta)
Czech Republic
NC
Grom

Denmark
NC
MrNuffle
RC
Casper
Finland
NC
Valkohukka

France 
NC
Sebco
RCs
Karaak (Northwest)
Galanthil (Northeast)
Buck's (Paris)
Galmor (Southwest)
Germany
NC
Planlos
RCs
Heroic_Tackle (Northeast)
Tojurub (Bavaria)
Kithor (Southwest)
Twyllenimor (Northwest)
Italy
NC
Rolex
RC
zio_kirie (Central)
Panicoblack (Central)
Malta
NC
janninu
Netherlands
NC
Lucy
RC
Jelmer
New Zealand
NC
Shteve0
Norway
NC
Straume
Poland
NC
Shawass

RC
Domingo
Serbia
NC
Severian
RC
joggy
South Africa
NC
Da_Imp
Spain
NC
frikipe
RCs
Pacho(Northeast)
Panzer68 (North)
Emi_-13-_ (SE)
Hachablanca (Central)
txlanhualpec (SW)
Sweden
NC
jammydodger
RC
Mago
Switzerland
NC
Jokaero
United Kingdom
NC (UK)
Hawca
RCs
Pipey (at-large)
Sann0638 (at-large)
Don_Vito (North England)
Rodders (South England)
Lunchmoney (South-West England)
Valen (Midlands)
NC (Scotland)
Purdindas (Scotland)
NC (Wales)
Hawca (Wales)
United States
NC
Gaixo (acting)

RCs
Beorg (Northwest)
Gaixo (Southeast)
zootsuitjeff (West Coast)
Kilowog1 (Texas/Oklahoma)
MightyZuk (Northeast)
Grither (Rockies)
Uruguay
NC
Caio