If you've never been to a NAF-sanctioned tournament, what should you expect?
Most tournaments are six games over two days. You have around 2 hours to play a game, and if you go too far over this the game may be "called", but this doesn't happen very often. Some two-dayers are 5 games, to allow for travelling time, and some one-dayers are 4 games, to make the most of the day.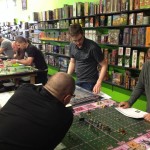 The Illegal Procedure rule is virtually never used – games are played competitively, but in a friendly atmosphere. If you forget to move your turn marker, your opponent will remind you.
You will have a certain amount of money to pick your team.  Sometimes you have to pay for skills out of this money, other times you get to pick from a "skills package".  Read the rulepack for the tournament, and ask for clarification from the organiser if it's needed.
Depending on the location of the tournament, people are either local or staying nearby.  This means there's often some Saturday evening socialising, for example a curry or an arranged meeting place.
Check the rules for whether you need to bring a board.  You will always need to bring your own team, dice, and usually two rosters, one for handing in and one for your opponent's reference.  Players on your team with skills will need to be marked in some way – at the least by numbering your players, but skill rings are also very common.  Teams are expected to be painted to a basic standard at least.
Most tournaments are Swiss, which means that after a (usually) random round 1, teams on the same number of points are drawn against each other, so that you are playing against someone who is doing about as well as you are.  This continues until the final round, but check individual tournaments for details on how the final winner is decided.
Most are also Resurrection, which means that injuries are not carried forward.