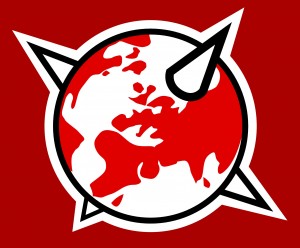 The NAF has an active Facebook and Twitter presence, with over 700 Likes on Facebook and 400 Twitter followers.  New blog posts are also posted on those social media sites.  The NAF also has a Flickr site for lots of Blood Bowl pictorial goodness!
There are various NAF logos for different uses, from the original spiked ball to the NAF world cup logo which is now in wider use to show the worldwide nature of the NAF.  You are welcome to use these logos on merchandise for your own (non-profit) use, and the NAF Rewards committee are looking into away of automating this via a third-party site.  One very popular use was for NAF mugs! You can download larger resolution version of the images here.
If you want to make yourself a tournament banner, you can use this photoshop template.
If you are publicising Blood Bowl at a convention, or similar, you could consider using one of these leaflets – we can also send you some with enough notice!
There is now a NAF Podcast!
There are also lots of Facebook pages dedicated to the Blood Bowl hobby, including teams, stadium, the community…