The Coach Locator was redone in November 2017 so that for the first time you can effectively find other NAF members.  You can find it by logging in and then clicking on Coach Locator on the left, as shown in the pic below.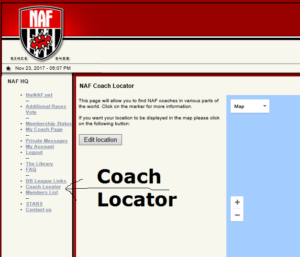 The picture also shows the "Edit Location" button, which allows you to add yourself to the map.  Note the following:
this is entirely opt-in, so no-one will be shown without their permission;
you can put your location wherever you want, to make it easy for people to find you and play BLOOD BOWL;
when you click on the red flag, you see someone's NAF id and a link to their coach page;
the map is only available to current NAF members.
And of course, the League Locator  and Tournament Map is still going!