B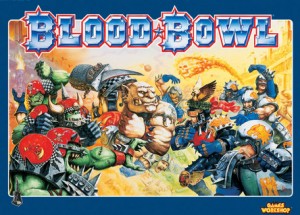 lood Bowl is a tabletop game, originally made by Games Workshop, in which you win the game by scoring more touchdowns than your opponent. The players on the pitch are represented by miniatures, and the effect of their actions is decided by the human coach rolling dice. These dice are standard d6s, d8s, and a special six-sided blocking dice, which are used for hitting people, known as blocking. Blood Bowl has been around in various forms since the late 80s, but changed substantially in the 3rd edition in the early 90s with the introduction of the block dice, which have been around since.
On this site you will find information about the NAF, which is the global players' organisation, Resources for starting to play BB, all the Rules information you want, how to play Online Blood Bowl and lots more.
If you want to know more, check out the five-minute video below (which was made a while ago, so the links may be out of date…), and then browse around the site, maybe starting with the Returning Players post. Enjoy!