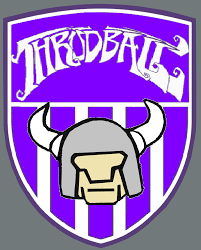 Thrudball.com!
Top 4 as shown below!
Winner – Itchen
Runner-up – Rubick
3rd – Cornish
Glowworm – Oon
Best Team – The French
Most Casualties – Nazgob
Most Touchdowns – ddark
Stunty Cup – Twelfman
Best Thrudling – Enderman
Dockbowl Winner – Laraigne
Best Defence – Mawph (slight maths error at time of awarding the prizes!)
Best European – PeterD (and probably best defence too…)
Best Painted – Laraigne
Best Painted Auction – Thor
Wooden Spoon – BDOW
Lots of pictures in Lunchmoney's album.
£4000 raised in the charity auction Saturday night!
Full standings:
#
Team
Race
Coach
Score
Touchdowns
Casualties
1
Renegadian
Chaos Pact
Itchen
18
11
–
3
16
–
10
2
Team 3
Chaos Dwarf
Rubick
13
10
–
5
21
–
13
3
Bugman's Best
Dwarf
Cornish
13
10
–
6
19
–
6
4
You Know My Team Oon
Norse
Oon
13
8
–
4
12
–
17
5
Da Seaorcs N
Orc
Gimli01
12
7
–
5
7
–
5
6
The Little Sh*ts of Dumb Girk
Orc
MonkeyTrumpet
12
7
–
5
15
–
9
7
Natural Horn Killers
Chaos Pact
peterd
12
7
–
2
24
–
9
8
One Trick Cajones
Underworld
Twelfman
12
9
–
3
14
–
24
9
You Know My Team
Norse
Funny Valentine
11
7
–
4
22
–
12
10
Maximum Impact
Chaos Pact
Hawk
11
10
–
6
20
–
14
11
Schlaghügel Sentinels
Human
Mawph
11
6
–
3
10
–
22
12
Got Block?
Norse
Lunchmoney
11
7
–
4
17
–
12
13
Imperial Socks
Dwarf
Old_Dwarf
11
7
–
5
26
–
6
14
Marienburg Fireflies
Halfling
Nazgob
11
9
–
8
32
–
19
15
You Know My Team
Norse
Pedro
10
8
–
7
16
–
18
16
Skavenblight Scramblers
Skaven
Touchdown
10
12
–
8
10
–
23
17
Team 4
High Elf
ddark
10
17
–
11
16
–
14
18
Pillage Village
Norse
Nagrom
10
10
–
8
10
–
7
19
Bacon on a String
Skaven
scs.sam
9
14
–
11
9
–
27
20
Thrud-u-Like
Ogre
Heff
9
8
–
7
22
–
15
21
You Know My Team
Norse
Budmilka
9
8
–
5
24
–
16
22
Team 5
Pro Elf
Tank15
9
13
–
5
6
–
18
23
Underage Drinkers
Norse
Enderman
9
6
–
6
20
–
14
24
Salacious Temptation
Vampire
Grumbledook
8
7
–
8
8
–
26
25
Euro'll Gonna Die
Undead
Sann0638
8
7
–
7
25
–
14
26
Uncanny Ex-Men
Necromantic Undead
Fallingdownjoe
8
6
–
5
15
–
17
27
'Orcwind
Orc
lgmdaniel
8
7
–
5
23
–
11
28
Danestown Hurricanes
Norse
KFoged
8
10
–
6
24
–
16
29
Orange is the new Block
Ogre
scotthabanero
8
7
–
6
18
–
25
30
What the Hell am I Doing?
Ogre
Merrick
7
6
–
7
16
–
29
31
Team Name
Chaos Dwarf
Giraffe
7
5
–
4
13
–
8
32
Team 6 N
Amazon
Johnberwyn
7
5
–
9
13
–
19
33
www.cheeseballs@gmail.com
Lizardman
Dementor
7
4
–
9
13
–
13
34
The Rotten Ravens N
Nurgle Rotters
Sharky
6
5
–
7
15
–
15
35
Spoon Collectors
Pro Elf
Legolas
6
4
–
9
3
–
26
36
Class of 2017 N
Goblin
Azlann
6
5
–
12
24
–
21
37
Tenochtitlan Titans
Slann
Cookie
6
7
–
9
8
–
23
38
Horns of Numon
Chaos
Mr_Frodo
6
6
–
10
13
–
22
39
Blatant Plague-arism 1
Underworld
Thor87
5
5
–
11
18
–
19
40
See, They are Painted
Norse
Portsmouth
5
7
–
9
22
–
20
41
Blatant Plague-arism 2
Underworld
Landrover
5
6
–
9
15
–
17
42
Funnybones N
Undead
Stowelly
5
6
–
11
10
–
11
43
Chicago Longbeards
Dwarf
Ghostblaster
5
5
–
7
10
–
8
44
Sands of Time
Khemri
Ninjagosplat
4
6
–
10
21
–
9
45
You Know My Team
Norse
Laraigne
4
2
–
10
27
–
14
46
Superzeros
Goblin
Buggritt
4
5
–
9
14
–
31
47
Facehuggers Reunited N
Lizardman
Sabellida
4
5
–
9
10
–
23
48
Standy Stand-ins
Orc
jimmyjazz
4
4
–
5
12
–
7
49
Ned Smellies
Goblin
Glowworm
3
3
–
9
19
–
20
50
11 Angry Dwarfs N
Dwarf
BDOW
0
0
–
13
6
–
9