The dust has settled on another amazing NAF Championship – in fact, the biggest ever with 209 coaches in attendance!  Personally, I could only make the Sunday, so was very pleased to be able to follow the action using the NAF Facebook page and Twitter feed.  In fact, if you haven't checked out the Facebook yet, head there now as there are a ton of photos on there from the weekend, and you don't even need to be on Facebook to see them.  Happy days!  There is also Lunchmoney's album here.
So I wasn't playing, but spent the Sunday streaming top table, and you can find the uploads on my YouTube channel, including the prizegiving and World Cup announcement.  I arrived early doors and was greeted by Round 4 games already underway, with coaches from England, Scotland, Wales, France, Germany, Belgium, Malta, Australia, Denmark, Spain, Sweden, Italy, Switzerland and Norway, aged from 7 to 70 (possibly – certainly in the 60s!).  Similarly, experience ranged from those playing in their first NAF games to Lycos, who is now nudging 1200.  All the races were represented in various numbers, and no doubt someone will do some analysis to see if this was affected by the tiering…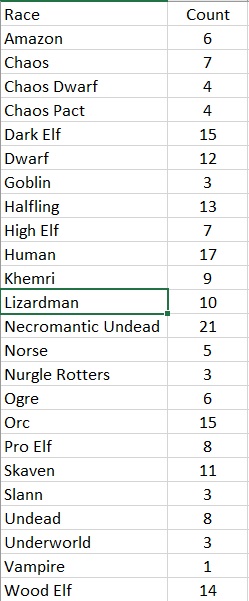 As the games progressed, the leaders in each category were resplendent in their capes, and shouts went up as touchdowns were scored and spot prizes were won, supplied by Tritex Games and other sponsors – thank you very much to everyone who supplied goodies.
There were some beautiful teams on display, and you can find photos in the album linked above, with some coaches putting in huge effort with dioramas and display bases, as well as the Duel competition, which had the most entries ever.  Congratulations to all winners of the painting competitions, as well as those nominated.  The standard was very high!
After 5 games there were three coaches on 5 wins – Kfoged, Gaunab and Justicium, and by the rules of the tournament Justicium lost out on the final by the total score of their opponents.  The final was very tight for the first four or five turns, with the Dark Elves doing a good job of bogging down Necro, while the Necro made incremental games forwards. There was then a massive turning point as Gaunab rolled double skulls, reroll double skulls, and from then on it was Kfoged's game, including him forming an impenetrable cage in the second half!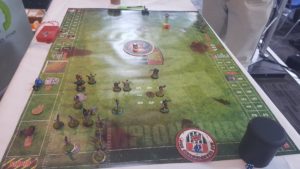 So congrats to Kaare for winning his second NAFC, equalling PeteW who has also won this tournament twice.  This year was the first time that we had tiers, and this did reduce the number of top end Lizard and Wood Elf teams, though there were lots of Dark Elves in attendance still, including winning back-to-back championships!
There have been other write-ups of the NAFC, including by Crystal and Wotfudboy, a video by Boutet, and GW were kind enough to feature our little tournament on their Facebook page.  Nice to be recognised!  The date has been set for next year already – May 5th and 6th 2018, so save the date!  Same place, same format.  Winner!