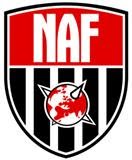 The NAF is an international association of players dedicated to Blood Bowl – the Games Workshop game of fantasy football. The NAF acts as a central resource for Blood Bowl coaches the world over – offering news, contacts, discussion, sanctioned tournaments and international player rankings. Whether you are planning to run your own tournament, looking for a league, or just wanting to catch up on the latest from the world of Blood Bowl, NAF HQ aims to provide everything you will need. Browse the menus, or use the Search function to the side or below if you know what you are looking for.

Different people have different things they need from the NAF:
Are you a new player?  Use the Blood Bowl link above to get the latest Rules, along with various clarifications that might help.
Returning player looking for a game?  Use the global League Locator to find a league near you, or the Tournament listing for an available tournament. These ones are in the next few weeks!